THE PARISH COUNCILS
Parish Councils are statutory authorities and can act as your link to Chorley Borough Council and Lancashire County Council. The Parish Councils are consulted on a variety of issues by Chorley Borough Council, Lancashire County Council and Government bodies. These include such things as the Local Structure Plan, planning applications and Public Rights of Way.
Parish Councillors may be contacted on a variety of matters concerning the Parish's such as planning applications, condition of roads, untidy sites, litter, community schemes, street lighting and transport.
The Parish Councils meet regularly to discuss matters of local importance and interest. Wheelton Parish Council meets monthly and Heapey Parish Council every second month. However, Parish Councillors are continually working on matters (outside of meetings) for the benefit of the Parish and welcome any comments you may have.
Any suggestions or complaints on any matter concerning the Parish of Wheelton or Heapey can be made in writing to the Clerk to the Parish Council, details on the Contact Us Page. The matter will then be dealt with at the next meeting of the relevant Parish Council.
Heapey Parish Council Wheelton Parish Council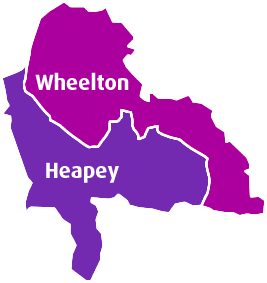 JOINING THE PARISH COUNCIL

Councillors are elected every 4 years. If you have the interests of the village at heart and are interested in standing for either Parish Council, why not talk to the Parish Council Clerk.

In addition, if a vacancy arises between elections, the Parish Councils will advertise and have the power to co-opt members onto the Council.

ELIGIBILITY TO JOIN THE PARISH COUNCIL

You qualify if, over the last twelve months before the day on which you were nominated, or the day of the election, you have resided in the parish, or within three miles of it, or occupied as owner or tenant any land or premise therein or had your principal place of work there. In addition, you must be 21 or over.

POWERS & DUTIES OF THE PARISH COUNCIL

Parish Councils in general have the power, under various Acts of Parliament, to carry out a variety of work from the provision of allotments to the maintenance of War Memorials. How many, and which, of its powers a Parish Council chooses to exercise depends on such things as the size of the parish and, therefore, its budget, and the demands of its electorate.

QUALITY PARISH COUNCILS

Some years ago, the Government introduced the concept of the Quality Parish Council. In order to achieve this status a council must satisfy certain criteria, for example it must have a minimum of 6 meetings a year, publish a newsletter at least 3 times a year, its clerk must have an approved qualification. If a council becomes a Quality Parish Council, then it will be able to play an enhanced role in the community and provide more services in partnership with its principal authority, which in the case of Heapey and Wheelton Parish Councils is Chorley Borough Council or Lancashire County Council, depending on the service provided.

Both Heapey and Wheelton Parish Councils have resolved to work towards Quality Parish Council status.

CODE OF CONDUCT

In 2001, a new Model Code of Conduct for elected and co-opted members of local authorities came into force. Every authority, including Parish Councils, was required to adopt a Code of Conduct that sets out rules governing the behaviour of its members by May 2002.

The Code of Conduct in general covers areas of individual behaviour such as members not abusing their position or not misusing their authorities resources. In addition, there are rules governing registration and disclosure of interests.